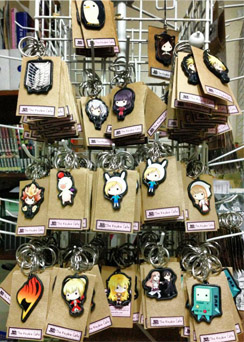 The Keybie Cafe started from three things: a single fangirl's desire for anime merchandise, a love of chibi art and crafts, and a lot of scrap. Scrap materials, that is.
It was from a mix of these three things that the Keybie Cafe was created—and now it offers several other fandoms their favorite characters drawn in a signature dotty-eyed, chibi style the keybie is known for, while still made from scrap materials. One wouldn't be able to tell that keybies were made from scrap though, not with their wood-like consistency and clean, plastic-laminate finish.
Now the Keybie Cafe runs on family efforts and combined, continuous creativity, bringing keybie cuteness everywhere.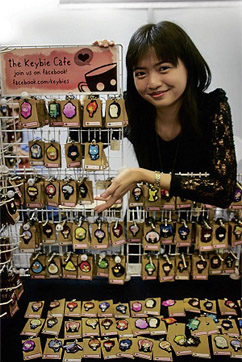 The mind behind the Keybie Cafe goes by the name of Micah R. Valero, born and raised in the Philippines with Literature and Business Management degrees from De LaSalle University, Manila under her belt. She currently works in corporate communications at a large company.
She would draw between homework, tests, and (sometimes during, admittedly) classes in college, and enjoyed drawing chibi art of her favorite characters. It was after she put this interest and a love for crafts together that she made the little keybie—several prototypes later.
A few hundred designs and more than half a decade later, she now happily manages the Keybie Cafe on the side with a small team consisting of friends and family.
Her mom, Maricel, keeps a close eye on finances and operations to let her daughter concentrate on marketing and designing. She and Micah's late dad Mike used to source supplies and handle nitty gritty details such as packaging. Now it's Micah's younger brother, Mitch, who helps with these details, while her mom offers plenty of creative wisdom to help the Café grow. Keybies are manufactured right at home with the on-the-side employment of the household help.
Every keybie's design used to be drawn single-handedly by Micah herself, but to accommodate the steadily growing demand for new designs and characters, she assembled a small Keybie Team comprised of talented artists.