KEYBIE FAQS

Please read our FAQs completely, from top to bottom, before asking questions.
If you find that your question/s have not been answered by our FAQs, kindly send in your query at
keybiecafe@yahoo.com
.
We will know if you didn't read the whole thing and ask something anyway, in which case we might not reply.
We'd love it if you could read our FAQs. Thank you! 🙂
KEYBIE 101

1. What's a keybie? What's it for?
A keybie is a flat, CG-d chibi/symbol/name/you-get-the-idea charm or keychain, depending how it's used. It can be used from anything to earrings to scrapbook decorations to cellphone charms. It's also made from scrap materials.
They used to be made individually by one person. Now they're made by the collective efforts of a small team ofartists, and a whole household.
The term keybie and the name the Keybie Cafe are copyrighted.
2. Why 'keybie'?
'Keybie' came from words 'chibi' and 'keychain', which were combine to form 'keybie'. The other choice was 'chichain', which is just ugly.
A 'chibi' is an japanese anime term used to describe a small character specifically made to look cute. It literally means 'small', and is sometimes referred to as the 'tiny tot' style.
Although keybies are mainly designed as dotty-eyed chibis, keybies can be of ANY design. If a design is complicated, it can compensated with a little Photoshop editing around the image's borders.
3. Then why the extra 'e' in keybie?
Because it's cuter than 'keybi'.
4. How do you make them? Can you teach me how?
Keybie-making is a secret, but though it's essentially made from scrap materials, you're assured a durable, semi-waterproof piece of cuteness when you buy one.
Semi-waterproof simply means they can be quickly run under water in case of a spill of sauce or something, but they can't be comepletely submerged in water. If water gets inside the keybie, you risk making the paper pulp inside swell. That will not make your keybie look pretty.
5. How long does it take to make a keybie?
From the time that it gets printed, it takes a minimum two weeks per design.
6. How big are they? How much is one?
Here's a size and price chart for your reference!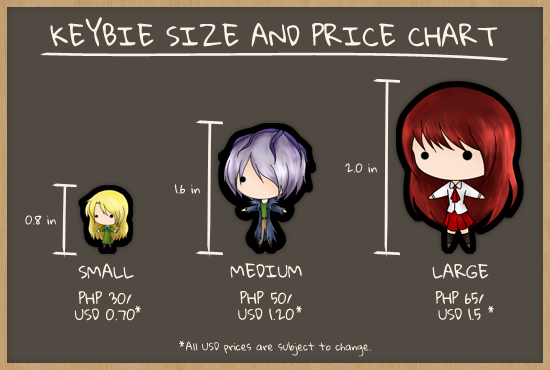 GETTING A KEYBIE

7. I want a keybie! How do I get one? Can I have a keyring instead of a phone strap?
You can purchase a keybie online through our happy.ph e-Store and offline through our locations and events. You can also request for custom orders.
Keybies can come as phone charms or keychains, all for the same price. When purchasing from our e-Store, simply indicate which attachment you'd like before you place the item in your cart. If you'd like them to come in something other than a keychain or phone charm, like as earrings or as necklaces, kindly indicate that in the Special Instruction/Request box and we'll talk to make sure I get your order right.
Stocks at our locations both carry keybies in phone charms and keychains, but that might not always be the case as they run out quite fast.
Similar to e-Store purchases, custom orders can come in something other than our usual attachments. Just indicate your request on our order form.
8. Can I request a character or symbol? Do you do custom orders?
Yup. We only require a link to a full body reference picture, which should be indicated in the order form. Please note that characters or symbols that are currently not in the Keybie List will cost P100, while ones that are already available will still only cost P50 when ordered.
Customization is free if you provide us an image with no editing required.
Got that? All right. Going back, we do, however, charge extra for the personalized designs, and the designing of characters that are personalized in some way. All personalized designs are non-resalable.
Non-resalable designs now include keybie versions of J-POP, K-POP or any other similar designs. If you were to request a band member from one of these groups, the design will be counted as a non-resalable design because these people, unlike anime/game characters, have several outifts and hairstyles. This means that every design we make will have to be drawn and photoshopped from scratch, much like the nature of my custom orders. It's because of this added effort that people like Jae Joong or Dong Hae are now more expensive to order.
We do not take custom orders without the order form filled up first. If you order custom keybies, we require a deposit of 50-100% before proceeding with the order. There are absolutely no cancellations and no refunds.
9. I just want to request a character? I'm not really thinking of buying. I think it's cool if you add <insert character's name here> to your collection!
We don't take requests or suggestions.
If you really, really want to see a character, symbol, creature or whatever as a keybie design, do order it by filling up an order form.
10. Do you sell anywhere else apart from at cons? Any branches?
Yup! You can buy keybies at CSCENTRAL and JAE Collectibles. You can check their locations here. We're working on getting keybies consigned in other places, too, so stay tuned!
You can also visit our booth when a con we're going to comes up. You can check which one's next here.
11. What are the terms for bulk orders? Do you offer discounts?
Although we don't have a minimum amount for custom keybies, we offer a discount for orders of 50 pieces and above. This applies to all keybies, but custom orders have to be discussed first. Said custom bulk orders cannot be be composed of several designs in one, but they can be composed of any combination of keychains, phone charms, catalog cards, etc. As regards payment, we'll need a 50% downpayment for ALL bulk orders.
RECAP:
If the total hits 50, you get a discount.
If the 50 keybies are ready-made designs, you get that discount.
If the 50 keybies are all customized AND resalable (anime/game/etc characters), you get that discount.
If the 50 keybies are all customized BUT non-resalable, you still get a discount, but we have to discuss how much.
12. How do you deliver keybies? How much is shipping?
We use XEND to deliver them both locally and internationally. Here's a chart to explain.

NOTE: Due to Xend's pricing change, Provincial Addresses now have a shipping fee of P100.
The weight limit for EMS Delivery is half a kilo, so if you're in a hurry or are ordering a lot of keybies, this is the way to go. The weight limit for Postal Delivery is 100 grams. Even if it goes above 100 grams, it will still be cheaper than the EMS service, but we wouldn't be sure what the price is unless we have your order since we don't have a way to weigh the keybies by grams. This is ideal for people who order only a few keybies, and don't mind the wait.
The only meet-ups we do are at conventions that we go to as an exhibitor. All cons are announced here or at The Cafe's FB Page.
13. How do I pay you? How do you pay via bank deposit?
These are all the methods currently available. Please don't ask if there are other ways to pay besides these. When we have new methods, they will instantly appear here. Promise.



You will receive the actual payment details and instructions when we've received your order from the e-Store or your validated order form.
Don't know how to pay via bank deposit? No, you don't need a BDO account.
Click here for our super easy guide!
TAKING CARE OF YOUR KEYBIE

14. How do I take care of my keybie?
Because keybies are generally made from paper products, the first thing to remember is that while keybies can withstand getting dripped/spilled on, it's never a good idea to completely submerge it in water for a long period of time. Look here for our guide on how to fix your keybie when this happens!
We also include handy tips on how to care for your keybies, the tried and tested way.
15. I noticed that my keybie makes black stains. Is that normal?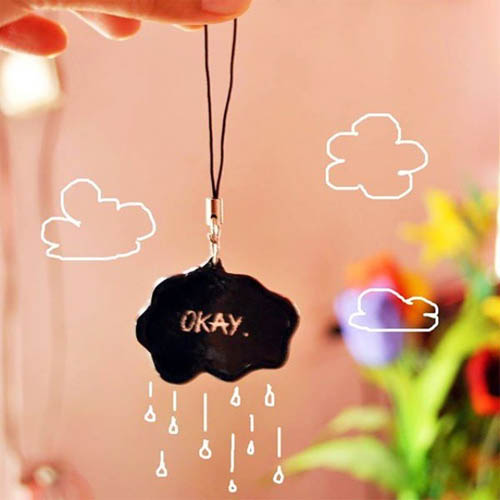 Yes, that's normal. That only means that the edges of the keybie have worn, and the ink used to color it is rubbing off. The paint itself is washable, but you can stop the paint from rubbing off by coating the edges of the keybie with a thick layer of glue and letting it dry completely.
However, I've been able to come up with a solution to this problem already: all new keybies should no longer bleed black stains. To make sure, try wetting your finger and rubbing it along the top edge of a keybie. If you find black paint, spread glue on that part and let dry.
If your keybie gets wet, don't wipe it off with tissue! You need to let it dry, then wipe off the black stains with a damp cloth, not tissue.
16. Will you be making and posting more?
Yup! You can check our growing list of keybies at our Keybie List (no pictures), and our online store. The Keybie Team and I both add more keybies with each new design our customers order.
If you've read our FAQs completely, from top to bottom, AND still have questions left unanswered, kindly send us your query with the subject "Keybie Query" and include "DOGGY" at the end of your email.
We WILL NOT answer questions without "DOGGY" at the end. It is also the secret word that validates order forms.
REMEMBER THE "DOGGY". 😐
Keybie 101 | Getting a Keybie | Taking Care of Your Keybie | New Keybies?