Let me just share something: I like plants. Rather, I like taking care of plants, and the idea of having plants. Flowers, succulents, anything. I don't exactly have a green thumb (I've killed more than a few plants bought from street stands in Baguio and different flower shops), and it's only recently that I got pretty successful with growing carnivorous plants (after much research, effort, and munnies), but there's no simpler way to say it.
I like plants. The prettier or more interesting-looking, the better.
Now, it's no surprise that I also like desserts, but you're probably wondering: how would plants figure into them? You wouldn't really be able to put cute little plants and edible desserts together, would you? Unless they were… vegetable desserts? D:
Behold, cute little plants–of the cupcake variety.
Succulent Cacti Cupcakes

These look so real, but if you had a steady hand and the right piping tips, they're not all that hard to make.
Little Potted Plant Cupcakes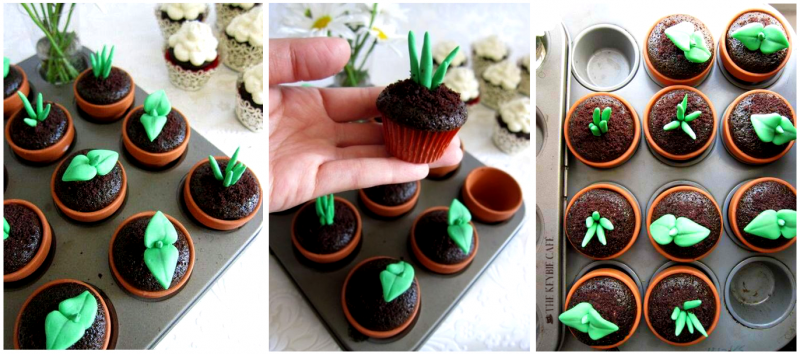 These little sprouts are actually chocolate mud cakes in small plant pots, with peppermint icing for the decoration.
A variation: chocolate cupcakes with chocolate frosting, crushed up oreo biscuits on top for 'dirt' with a green sweet or icing 'sprout'. Yummeh.
Cupcake Bouquets
They're not your standard 'potted variety', but how many ladies do you know would prefer these bouquets over the regular, flowering kind?
Flowering Cupcakes

These are easy on the tongue as they definitely are on the eyes! Whether they were stylized or realistic, there wouldn't be a plate that wouldn't welcome these beauties.
Or you can skip the plate altogether. :D
This is just one post where we'd feature desserts that catch our eye, as well as coffees and teas.
———————-
Images from Pinterest
Recipes from:
DIY House Plant Cupcakes by Alana Jones-Man (succulents)
DIY Little Pot Plant Cupcakes by Miss Madeline
Orange & almond cupcakes
Pink Cupcake Bouquet
Comment Here!
comments