Imagine coming home from school. It's been a long day, homework's not going away. You're tired, and you wonder what's for dinner, when an angel crashes through your roof.
.
Wait, what?
Ordinary student Faye Willow gets her plans at an ordinary life flipped upside down at the arrival of Afriel, a cheery angel who has trouble using doors, and another angel named Gale.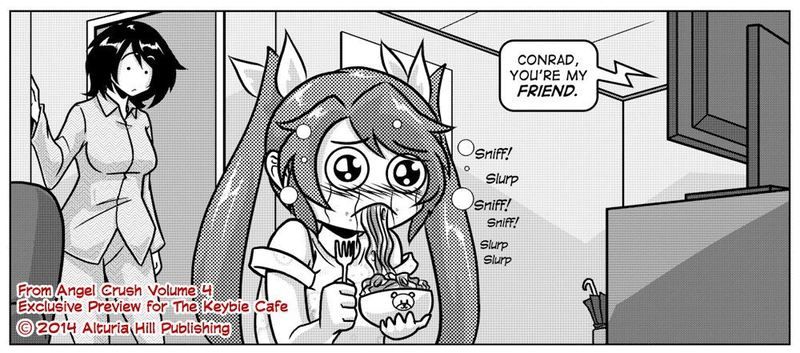 He also tells Faye a bit of news: Heaven chose her to take care of Gale. More specifically, she has to teach Gale–a taller, quiet angel next to Afriel–how to live like a regular human being.
It shouldn't be so hard, if it weren't for the black shadows of evil called dregs hanging around. Heaven won't let Faye go unprotected though, of course.
That's why a third angel joins the little party: Daniel Thace Peregrine, who despite his abrasive, cocky attitude, is none other than the (self-proclaimed-but-all-the-same-really) powerful Cupid himself.
.
Are you hooked yet?
Faye, Gale, and Cupid are the stars of Studio Studio's fantasy/comedy shoujo series, Angel Crush. With a riveting story by Ace Vitangcol and gorgeous art by Jed Siroy, this series lets us join Faye Willow as she does her best to fulfill her mission amidst dregs, unsavory antagonists, regular people who might find out Gale's identity, and Cupid's sarcasm.
It currently has 3 volumes released, with the long awaited 4th volume available at this weekend's Komikon X, 2014!