.
Maybe it's the cynic in all of us, or the emerging power of the Anti-Valentine (don't quote me on that), that caused this interesting twist to occur. When and how exactly Valentine's mixing with the undead started to make sense though, I don't know.
Or do I?
In the context of 'Til Death do us part, maybe there is some rationale into this eclectic mix. It is, after all, a truth universally acknowledged that both Pride and Prejudice and the zombie apocalypse (separately and together, maybe) are two of the most beloved concepts to have come out of the 20th and 21st centuries, respectively.
Til Death Do Us… Meet? Pride, Prejudice and Zombies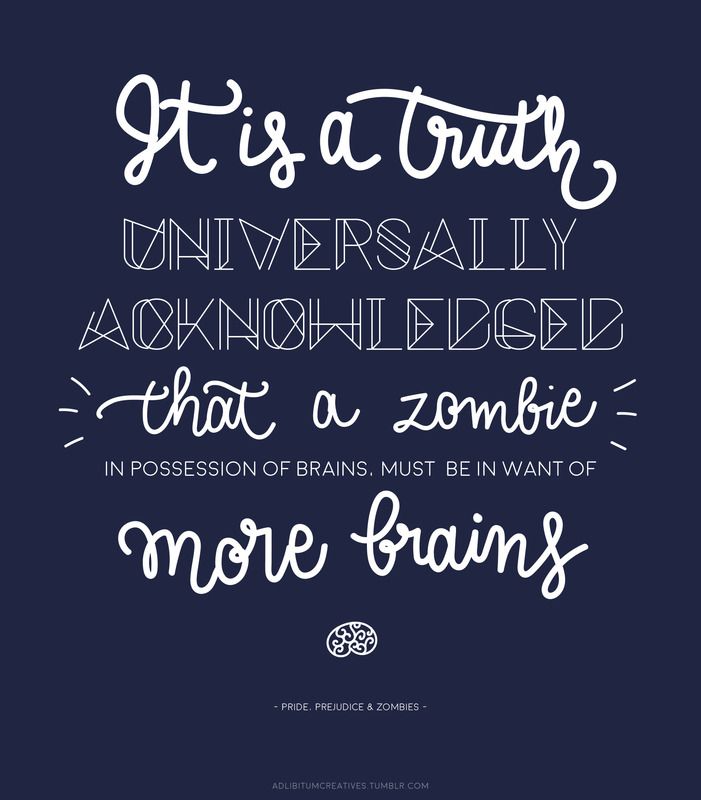 Who wouldn't want more brains?
In Pride, Prejudice and Zombies (PPZ), ironically, Elizabeth and Darcy find love in each other–with a dash of death in the form of zombies, of course.
I personally love Pride and Prejudice not only for its Victorian language and culture, but also for its complex characterization of its protagonist, Lizzy, and all the characters around her. While many people are quick to be purists/protective over Jane Austen's work, I find that I am very open to the idea of any adaptation of this piece for as long as it keep its original essence.
To be slightly off-tangent, The Lizzie Bennet Diaries, a web series on YouTube in 2013, was a wonderful adapation. For me, it only solidified the idea that the character of Lizzy (or Lizzie, as the web series goes) is applicable to any time period, through any medium. Without having read the book, graphic novel, or without having seen the film, I have my fingers crossed that PPZ will be the same.
The film opens a week before Valentine's. As someone that dabbles in marketing, I wonder why this was the date decided upon. It's no secret that the ever-popular AMC series "The Walking Dead" (more on that later) picks up mid-season around this time. Maybe the production thought to ride onto that massive horde of walker-lovin' folk.
More to that, while the novelty of the film is its twist of being set in a walker-ridden England, Pride and Prejudice is first and foremost a love story–or rather, the story of a strong-minded young lady that falls in love. The timing for it being close to Valentines must be intentional in that regard as well.
Til Death (Again) Do Us Really Part. The Walking Dead Season 6

Rick Grimes knows what's up.
Now here, I think, is the real kicker: The Walking Dead.
I have been a massive fan of the show since its debut in 2010. I can clearly remember being a junior in college, skipping class to watch the first episode with some of my friends from my organization. The moment Rick Grimes shot that undead little girl, we were all hooked. I haven't looked back since.
The format of the show had baffled me at first. Considering how they began the series with only 6 episodes to start, they continued doing half-and-half seasons every year, although I never noticed when these episodes were being dropped. Now I know that it starts in October and returns in February.
Since its popularity has risen, the logical mind in me thinks that for a lot of fans, its premiere has trumped the celebration of Valentine's Day.
Let me be a little overanalytical and say something like: we love these characters, we don't want them to die. Sometimes, we hope that when it comes to this show, the sheer power of our love for them will keep them alive one season more. That's how you know you love something, and that's how it is the perfect show to watch on Valentine's Day. Lol, JK–or not.
Either way, in my own thinking, watching The Walking Dead on Valentine's Day is an adrenaline-pumping twist or alternative to a romantic evening.
"This has been a great evening, but how 'bout we watch some walkers waddling about, hmm?"
Regardless of which piece of entertainment tickles your undead fancies (for me, both do!) though, 2016 sure does present itself with an interesting take on Love Month. I can honestly say that I don't know any romantic show or film that is coming out this Valentine's Day.
Apart from PPZ and TWD, I'm currently looking forward to watching Deadpool–which, surprise surprise has some "dead" in it!
It may be a bit premature, but could you see yourself in the future saying something along the lines of, "It is a truth universally acknowledged that love and the undead are a good mix for entertainment this Valentine's?"
Yup, I heard it too. WAY too premature–but never say never.
Dressing up for the occasion?
How about wearing one of these List Shirts by AdLibitum Creatives? Because who doesn't love lists of their favorite characters? Especially the survivors! ;)
————————–
Mishiewishie.com – Facebook
Adlibitum Creatives – Facebook
Comment Here!
comments