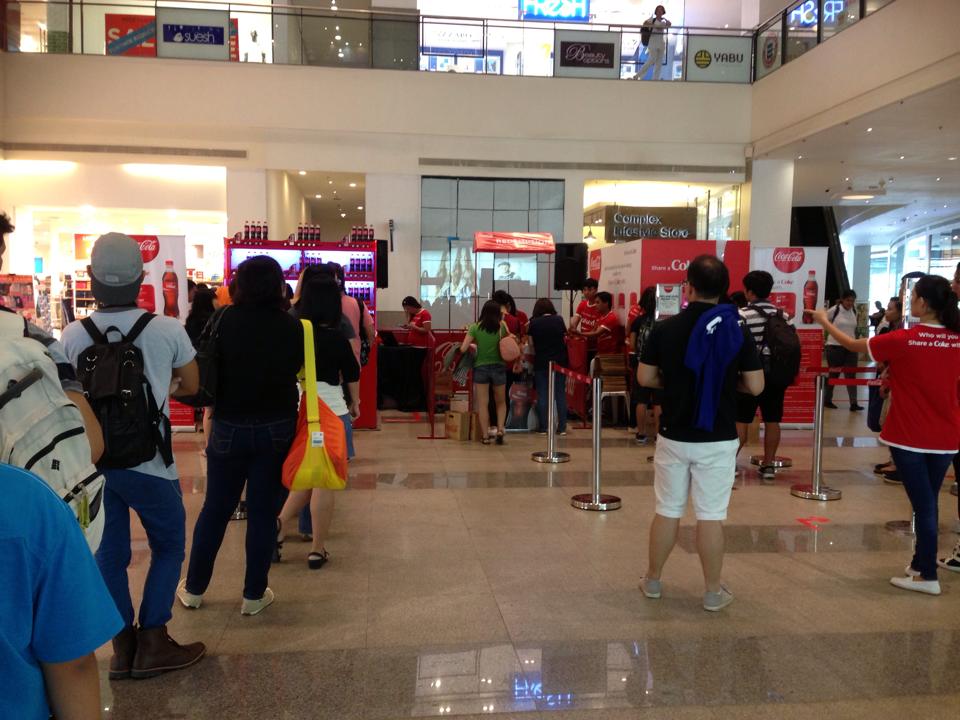 It's no secret that I'm a huge Coca Cola fan. When the #ShareACoke tour launched in the Philippines, we weren't going to let it pass without grabbing ourselves personalized cokes–especially since our names aren't in the official list.
But it's hard to show off a bottle of coke… so we took our appreciation for this fizzy icon a few steps further, and added a few beads along the way.
.
Share a Keybie?
I made Share A Coke keybie sets of our names, and at mom's request, I also made large, single versions. Now we have family sets and singles!

.
I even had a few leftover red heart beads and black diamond beads from my previous projects that went pretty well with all the red and black of coke.
Now we all have our family's names on a chain of little personalized Cokes.
.
All four in a set!
I preferred mine on a cellphone strap (these were also left over from a previous project).
.
They match my iPhone case awesomely. More coke things to add to my collection while we open happiness–P600 worth of happiness from getting our personalized cokes! <3
.
Want to get your own #ShareACoke keybie?
You can grab your own #ShareACoke keybie at our E-Store!
Just let us know what name you'd like and we'll keybify it on a Coke for you.
You can choose between a dustplug, keychain ring or cellphone strap, and you can also choose to have more than one Coke on a single attachment.
.
Want your own personalized Coke? Get one at the Next ShareACoke Tour!
Haven't gotten your own personalized coke yet? Check out the next #ShareACoke booth location for August 30-31!
September 26:

UP-AyalaLand Technohub
Science Hub, McKinley Hill

September 27-28:

Alabang Town Center (Corte Fountain Area)
Keep an eye out for their next locations on their Facebook Event page!
Mechanics:
Buy P150 worth of Coca-Cola® products.
Go to the Share a Coke® booth with your receipt.
Take your stub.
Get your personalized Coca-Cola® from the Coke® Vending Machine (P150 worth of single receipt purchase is equivalent to 1 Coca-Cola® 500ml PET; maximum of 4 bottles per receipt per day).
.
What products count?
You can buy P150 worth of Coke Regular, Coke Zero, Coke Light, Sprite, Sprite Zero, Royal Tru-Orange, Sarsi and Sarsi Light in 330ml, 500ml, 1liter, 1.5li and 2liters.
.
Note:
VENUES and DATES of REDEMPTION: join http://CokeURL.com/ShareACokeTourPH to get updates on the upcoming schedules.
Coca-Cola Far East Ltd. (CCFEL) reserves the right to change and/or substitute the venue and date of redemption. CCFEL's decisions on all matters relating to this promo shall be final.
Employees of CCFEL, CCFEMSA, partners, agencies, and participating supermarket/Malls/Convenience Stores/Schools employees/staffs including those of their parent companies, affiliates, their third party suppliers including Demo Power, Brandboss and McCann and their relatives up to the second degree of consanguinity or affinity are QUALIFIED to join this promotion.
CCFEL reserves the right to conduct verification process before redemption of any proof of purchase or Coke Share a Coke Stubs. Tampered coupons as proof of purchase will be disqualified. Consumer who redeem who fail the verification process will also be disqualified from redemption. All decisions made by CCFEL on all matters related to this promotion are final.
.
P. S. While I was taking pictures of these… someone wanted to help.
.
.
Comment Here!
comments